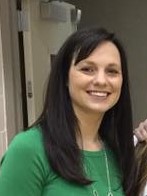 Return to Professional Development Resource Directory
Ashley Launius
Principal, Special Education Coordinator, and Transportation Director, Galatia Jr/Sr High School
Presenter Biography
Ashley lives in rural Southern Illinois with her husband and children on a farm. She is currently a Principal, Special Education Coordinator and Transportation Director at Galatia Jr/Sr High School. She has 11 years of classroom experience teaching high school and college mathematics. She has completed her Bachelor's Degree in Mathematics, Master's Degree in Curriculum and Instruction, General Administrative Program, and Superintendent Program. She is currently in the dissertation phase of her Ph.D in Educational Administration. Her dissertation topic is on Dual Credit in the state of Illinois.
Additional Qualifications
Professional Educator License (Endorsements: Mathematics grades 6-12, general administrative, and Teacher Evaluator Training). Dual Credit Qualified.
ROE/ISC Contact
Mandy Horn
mhorn@roe21.org
Frankln/Johnsn/Massc/Willimsn ROE 21
Services Provided
Topics
Grades
Miles Willing to Travel from ROE/ISC