The PL Enterprise Sub-Committee is addressing the Professional Learning needs of IARSS members in a two-pronged fashion.
A subset of the committee is reviewing possible topics for FY18 Training of Trainers aligned to Foundational Services topics.
A separate group from the Sub-Committee is studying FY19 activities.
In the meantime IARSS will continue to offer Professional Learning opportunities designed to meet the needs of educators.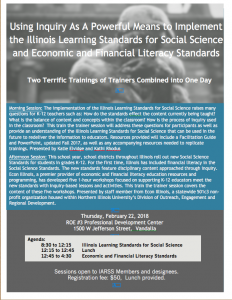 This excellent Training of Trainers has been rescheduled for February 22 at the ROE 3 Professional Development Center in Vandalia. Participants really enjoyed this training when it was held at the Peoria ROE PD Center in November and we appreciate the presenters providing us the opportunity to offer it again. ROEs and ISCs are welcome to send educators from their regions who will replicate the trainings locally.